The Road to Sustainability
Environmental Sustainability
"For those who make a living in the cement sector, there are two incompatible truths that must be juggled every day: most people cannot accept a life without cement, but they do not want their environment to be negatively impacted by the process of making cement". – Pierre J. Doumet, Chairman and CEO.

At Cimenterie Nationale, finding a balance means making the work we do as environmentally sound as possible. Managing our environmental footprint is central to the way we work. We comply with the highest national and international environmental standards, and we are constantly innovating to work in a more responsible and sustainable manner that minimizes the environmental implications of our activities.
Energy and Emissions
Waste Heat Recovery Projects



PROJECT #1

Purpose

Hot air from Kiln 3 coolers exhaust to Coal mills 4 & 5
(In operation since 2012)

Waste heat recovery from cooler 3 exhaust to coal mills 4 & 5
Allow operation of coal mills 4 & 5 in case kiln 4 is stopped
Eliminate the use of HGG (Hot gas generator) and thus no fuel oil consumption

Impact: Waste hot air from kiln 3 cooler exhaust to coal mills 4 and 5 in case kiln 4 is stopped (In operation since 2012)
Thermal energy saving (estimated): 1600 tons of heavy fuel oil per annum; 60000 GJ per annum




PROJECT #2

Purpose

Hot air from kilns 2 & 3 ESP coolers exhaust to cement mills 5, 8 and 9 and Polycom1&2 instead of hot gas generators
(In operation since 2017)

Waste heat recovery of Kilns 2 &3 coolers exhaust hot air
Avoid clogging problems in bucket elevators, Sepol separator and dedusting pipes over belt conveyors and transfer chutes
Reduce fugitive dust emissions
Eliminate the use of HGG (Hot gas generators) and thus no fuel oil consumption


Impact: Waste hot air from kilns 2 &3 ESP coolers exhaust to cement mills 5, 8 and 9 and Polycom1&2 instead of Hot Gas Generators (In operation since 2017)
Thermal energy Saving (estimated): 9600 tons of heavy fuel oil per annum; 370000 GJ per annum




PROJECT #3

Purpose

Excess hot gas from kiln 4 Preheater fans to raw mill #1 (Waste heat recovery)
(Expected to be commissioned in 2019)

The hot gas generator of raw mill #1 is running continuously while raw mill #1 in operation since no sufficient hot gases are available from Kilns 2 & 3
Following the commissioning of bag filter at kiln 4 Preheater string A in 2016, we got excess hot gases from kiln 4 Preheaters and hence a project to feed the excess hot gas from both kiln 4 Preheaters fan to raw mill #1 inlet by means of booster fan and shut off-flaps has been launched.
This project will lead to the stoppage of Raw mill #1 HGG while Raw mill 2 is in operation mainly during the hot seasons (~ 6 months) as well as to reduce the amount of water spraying on kiln 4 conditioning towers, thus an annual saving of almost 1.5 million dollars.
Reduce the amount of water spraying into the cooling towers of kiln 4 both Preheaters strings A & B during raw mill 2 operation


Impact: Excess hot gas from kiln 4 Preheater fans to raw mill #1 for partially replacing the hot gas generator (Expected to be in operation in 2019)
Thermal energy Saving (estimated):4500 tons of heavy fuel oil per annum; 173000 GJ per annum




Energy Saving Project



PROJECT #4

Purpose

Replacement conditioning tower of kiln 4 string A with down comer duct
(Expected to be commissioned in 2019)

No dust and muddy material spillages, thus better environmental conditions as well as less stoppages for cleaning and maintenance purposes
No dust discharge system and hence less maintenance cost
Almost no leak air entry in the area of the gas cooling which will lead to less specific heat consumption and more kiln feed at string A (higher clinker production) as well as less electrical power consumption of Preheater /String A ID fan leading to increase in production
Less number of required nozzles (15 instead of 40)

Impact: Replacing existing conditioning tower of kiln 4 string A with down comer duct (Expected to be in operation in 2019)
Thermal energy saving (estimated): 350 tons of Petcoke per annum; 11700 GJ per annum






Installation of a New Bag Filter

In our continuous efforts to preserve nature and improve our environmental performance, CN inaugurated its new Bag Filter on the 23rd of June 2017, in the presence of official, political and religious figures, as well as mayors and town council presidents.



The conversion of the Kiln number 4's Electrostatic Precipitator (ESP) to high efficiency Bag Filter will:


• Decrease the dust emissions from Kiln 4 to less than 10 mg/Nm3;
• Eliminate incidental dust emissions from the ESP;
• Dust control is independent from moisture and chemical composition of gas and dust
• Easier maintenance because of the modular design of the bag filter, etc.


○ Average dust emission with ESP Filter and after installing high efficiency Bag filter



Parameters

Lebanese norms

International norms

Average Kiln 4 main stack emissions with ESP Filter

Average Kiln 4 main stack emissions with Bag Filter

Dust [mg/Nm3]

150

50

32

10 – 13
60 % less dust emissions




Installation of a second bag filter for kilns 2&3 is in progress and is expected to be commissioned in 2019.
CN Rehabilitation Program
Rehabilitation of Exploited Areas: Past & Present
Our rehabilitation procedure is structured so as to accommodate all resources available and to value everything. This is why it might be planting young trees in fully exploited areas or even replanting of old trees taken from newly excavated areas including the soil which is also put aside to be later used in the rehabilitating processes.
The rehabilitation program depends on the excavation plan as it estimates the exact time every specific area at the quarry needs to be fully exploited. As the exploitation ends, the rehabilitation process immediately begins. CN's rehabilitation program started in 1995 and by 2019 has covered a total area of 283,598 sqm. The total number of trees planted over the years is around 70 000.
The rehabilitated areas include a good variety of trees like olive, pine, spruce, eucalyptus, and fruit baring trees like (lemons, oranges, and avocadoes). This is part of "CN's mitigation plan", which is both a very important principle and practice. This plan is set to reduce, neutralize and repair the impacts of our activities on people and the natural environment and rehabilitation represents a huge part of this plan.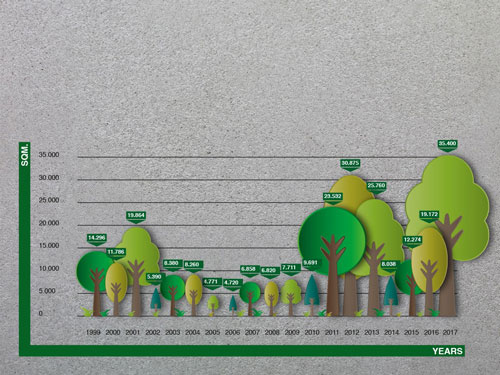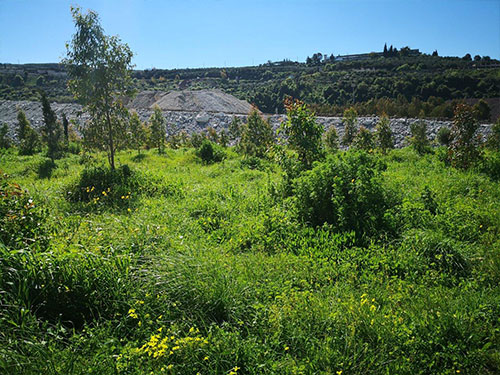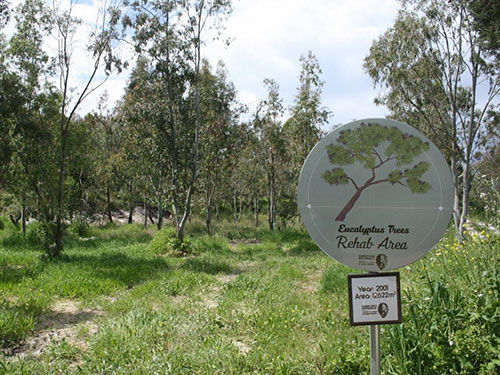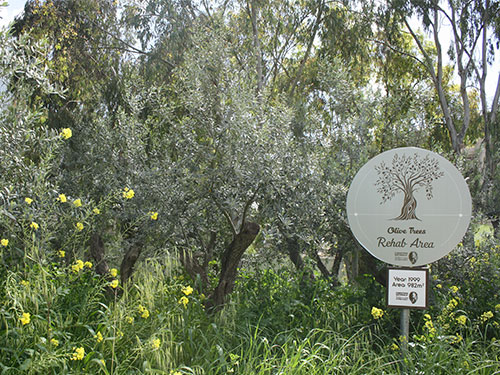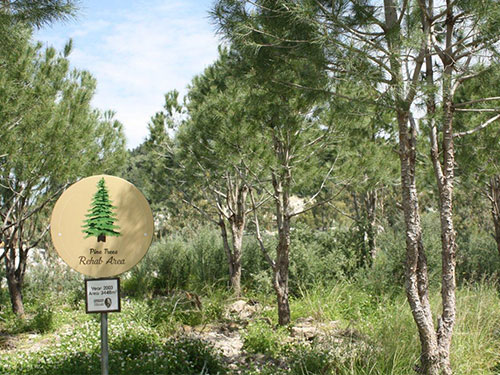 Future Rehabilitation: Short & Long term
Our future rehabilitation plan for the 15 upcoming years will cover a total area of around 400,000 sqm. This plan will be executed in 2 phases:
Short Term for the first 5 upcoming years:
To sum up our short term plan, we will be accelerating our program in the first 5 years to cover 166,000 sqm by planting 42,000 trees. Instead of completing this part by 2025, it will all be rehabilitated by 2023 (and of course filling gaps along the way as we did in 2018 when we were able to add 30,000 sqm from outside the program).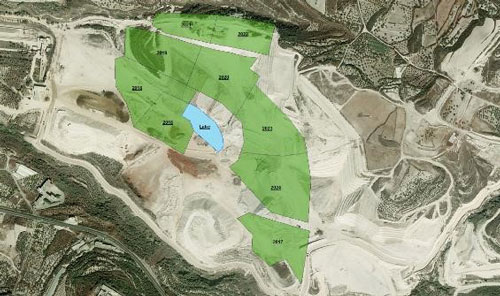 Long Term for the remaining 10 upcoming years:
CN's environmental commitment is also shown through the quarry rehabilitation long-term planning. CN will manage to rehabilitate 232,000 sqm by planting around 58,000 trees in the fully exploited areas. It should be noted that CN's quarry rehabilitation plan was submitted to the Ministry of Environment's Department of Natural Resources on June 20th, 2016, helping ensure that the Ministry is fully aware of the year-on-year rehabilitation efforts.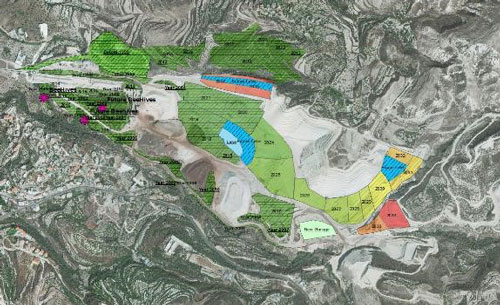 The Green Belt
Unlike the rehabilitated areas after exploitation, there are other areas that are planted but not exploited (virgin land set aside by CN). These are represented by the Green Belt. The Green Belt project came as an answer to anxieties by local residents about Cimenterie Nationale's excavation activities. The belt surrounds the quarry from all directions and symbolizes the limit at which excavation processes will cease in the future without reaching the villages.
As a first step to a better environment, and in consultation with the neighboring communities, we created the "Green Belt project" that separates our quarry from the neighboring villages. The green barrier serves as a buffer between the areas to be exploited and the villages, as well as a barrier that reduces the impact of the quarry operational activities.
The Green Belt project is the first of its kind in Lebanon. It was studied by Eco-Med France – a French engineering consultancy firm that provides applied expertise and advice relating to land and natural environmental development and ecological integration of projects – and was developed and implemented taking into consideration the prevailing biodiversity, natural condition and ecological potential.
A 68,000 sqm green non-exploited area in Badbhoun, made up of a conservation zone, a wet zone, a natural dynamics zone, a recreation zone and an education zone, was completed. Around 17,500 trees were planted in this area and it was opened to the public in December 2012, and currently accommodates visitors year-round.
Below is a brief description of the 5 zones:
Conservation zone: This zone has been appointed to specifically protect the existing biodiversity, allowing it to reinforce itself by ensuring the perpetual availability of the species and allowing maintenance of the ecological functionality of the site. This area is supposed to ensure the continuity with the adjacent small valley, and it is colored in red on the map. The biodiversity in this zone should be protected and not altered as much as possible. No introduction of plants, no watering or any other agricultural practices should be done. No excavation or other endangering activities should be done near this zone.
Wet zone: creating a wet zone aims at allowing a water accessibility point for increasing the incidence of species preferring a humid environment. This area is colored in blue.
Natural dynamics zone: by protecting the biological diversity and natural processes within this area, we can improve the integrity, stability and productivity of the ecosystem. The preservation of natural dynamics through usage of species already growing in the area is essential.
Interactive or Recreation zone: A zone for kids, teenagers and adults, used respectively as a playground, hanging out place, and relaxation area. A track was created, facilitating access to the site. The recreation zone is the ideal playground for the families; some benches were placed as resting areas. This zone is indicated in green on the map.
Education zone: To educate people accessing the site about the natural species growing in such regions. This zone is colored in brown. This zone incorporated a wide variety of trees growing in similar conditions to those available on the site. Medicinal and aromatic plants were planted on the borders of a path circulating in the education zone. Explanatory signs of the plated species are available for educational purposes.
Windbreakers
In 2014, CN launched a joint project in collaboration with Afsdik Municipality and T.E.R.R.E. Liban NGO. A Windbreaker acting as a visual and psychological barrier on an area of 2,250 sqm in Afesdik where around 1,680 cypressus trees were planted. CN partnered with the village's community for the necessary maintenance and irrigation.
In 2017, CN launched a second Windbreaker in collaboration with Bichmizzine Municipality on an area of 1,520 sqm. Around 2,300 cypressus trees were planted and are being maintained and irrigated by the village's community as well.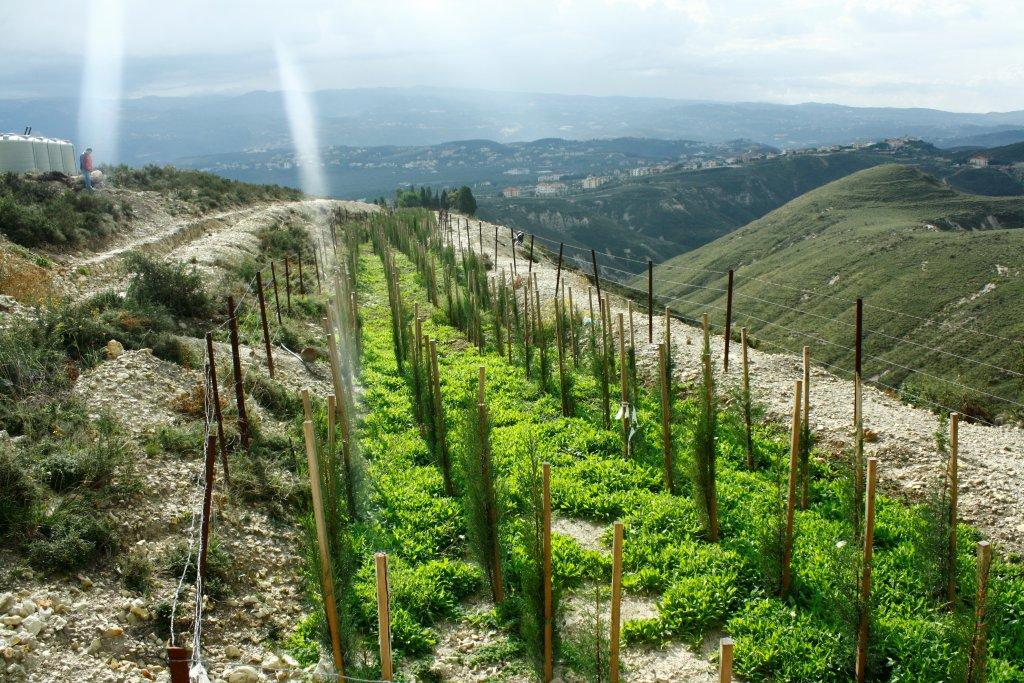 Hydroseeding
The Hydroseeding process consists of recreating the "Horizon 0" on the current excavated area which is crucial for a rich vegetation.
The mix used consists of:
Wood fiber
BIOFUMUR (Compost of vegetables and animals materials)
Cellulose – MULCH VL (Paste cellulose and Membrane anti‐erosive)
Fixer – PAM VL (Sol conditioner polyacrylamide (PAM) uses to increase soil porosity and water infiltration)
Seeds
This mix is being adapted to our environment and will accelerate the growth of the fauna and flora of the area. It also does not require water irrigation at all after the application, as the climate (humidity, wind, rain, dew, etc.) is very suitable for the success of the application.
After the initiation of this project in 2015, a number of trials were done to explore the most successful type of local seeds, able to withstand the existing environmental conditions. A number of internally developed breakthroughs were also validated to enhance the hydroseeding process, like adding soil to the already excavated benches and introduction of fertilizers and water all summer long to prepare the soil for the plantation process in winter.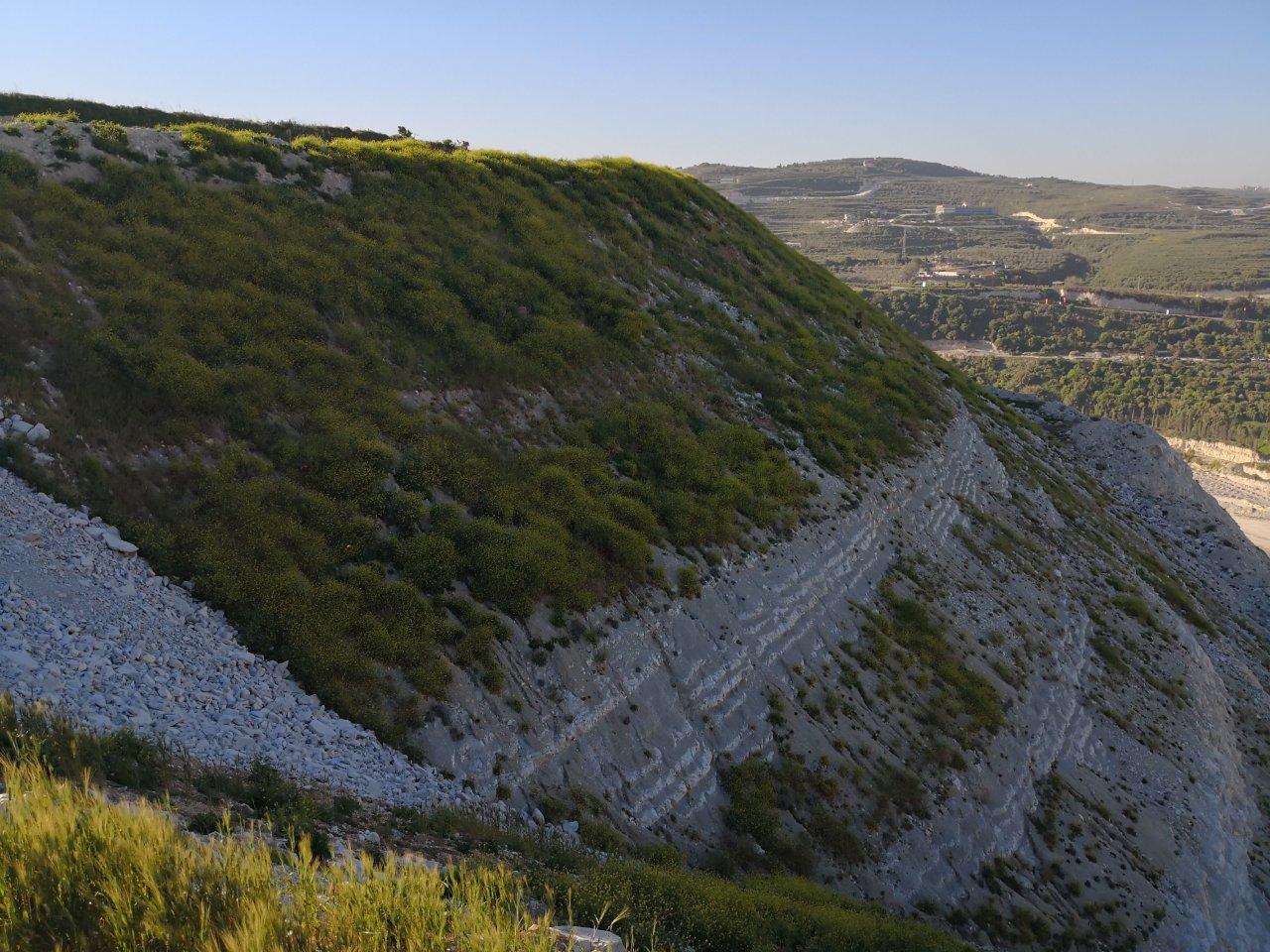 Beehives
"If the bee disappeared off the face of the Earth, man would only have four years left to live." - Albert Einstein
The commonness of contamination, even at considerable distances from industrial centers and intensively used economic areas, has become the interest of many. The issue of evaluating the state of the environment with the help of living organisms has become a very important part in the control of the natural environment. The Honey bee (Apis mellifera L) is a good bioindicator as it is inextricably linked to the natural environment in which it lives. Since 1962, the bee has increasingly been employed to monitor environmental pollution in territorial and urban surveys, pesticides in rural areas and also radionuclide presence in the environment. The bee as a biological indicator possesses several important morphological, ecological and behavioral requisites, and man's beekeeping assures an unlimited supply. The bee acts as a detector of environmental pollution in two ways, as it signals either via high mortality rates the presence of toxic molecules, or via the residues in honey, pollen, and larvae the presence of heavy metals, fungicides and herbicides that are harmless to it. Bee monitoring also contributes to the ecological impact statement by culminating in the charting of environmental health maps.
At CN, as part of our rehabilitation program, and as a cornerstone of our commitment to the Cement Sustainability Initiative (CSI), we chose to use Bees in our quarry for the same reasons mentioned above and to boost our biodiversity efforts.
To that effect, 60 beehives were set within the parameters of the quarry, yielding thus far 450 kilos of honey that were distributed to members of the community and visiting media. It is also important to mention that our bees are nourishing and growing nicely in the quarry.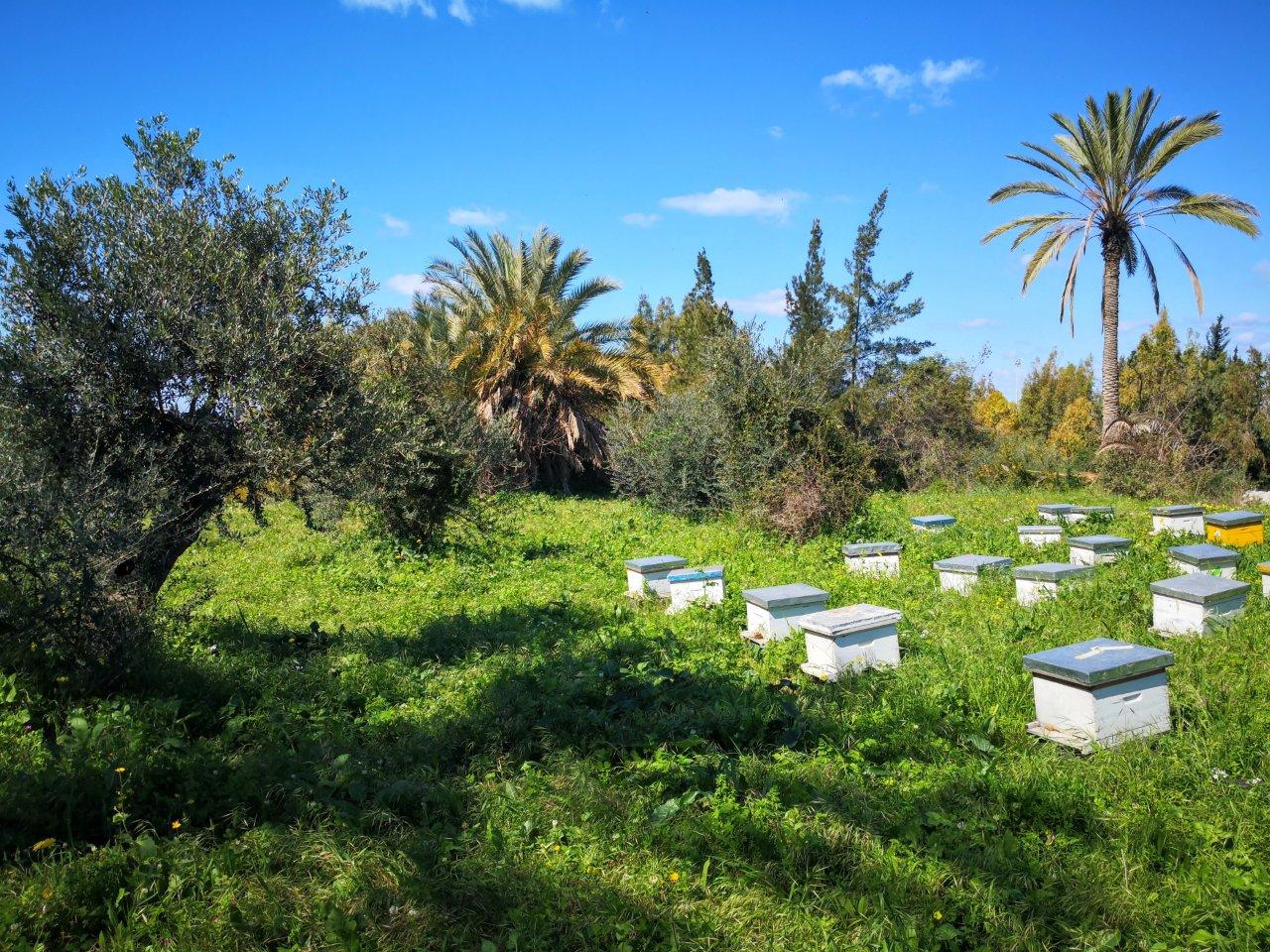 Key Figures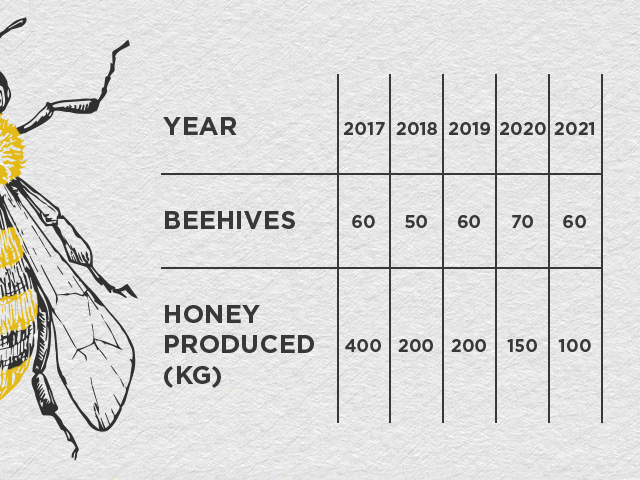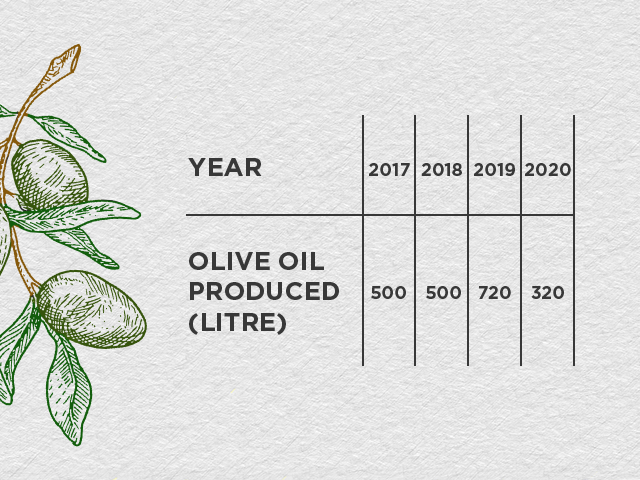 Environmental Modernization Plan
Cimenterie Nationale constantly seeks to improve its facilities by adopting state of the art technologies and has launched a series of plant modernization initiatives with the aim of upgrading the plant equipment, aligning them with the latest technologies and improving the overall environmental performance.
Enclosed Conveyor Belt: The enclosed conveyor belt which will serve to transport raw material from the quarry to the crusher will help reduce fugitive dust and other gaseous emissions and decrease noise pollution, in addition to ensuring a better handling and protection of raw material.



Gypsum Storage Hangar: The gypsum storage hangar will ensure a significant decrease in fugitive dust emissions resulting from the stockpiles that are exposed to winds, in addition to protecting them from precipitation, which translates into decreased drying requirements and thus energy savings.



Improved Petcoke/Raw Material Storage and Handling: Advanced, world-class methods will be adopted during the petcoke/raw material storage and handling processes (enclosed conveyor belt, storage hangar, fixed and portable water spraying nozzles, etc.) to ensure compliance with the highest safety standards and international best practices.



New Clinker Storage Silo: A new clinker storage silo will be built to ensure a decrease in fugitive emissions resulting from open stockpiles exposed to wind and to reduce the settlement of particles near surfaces and surface water bodies



New Garage for Vehicles: The new garage will be located farther from the nearest residential center compared to the previous garage to decrease the public disturbance and noise pollution, especially that it will be constructed in an already exploited area and will be surrounded with trees. Moreover, dust emissions, fuel consumptions, water and soil pollution will be much reduced. Vehicle washing, fueling, parking, maintenance and repair activities will then take place in close vicinity to the working area and in a controlled environment.



Port Modernization: The port will undergo several upgrading projects with the aim of improving its operational, environmental and aesthetic situations, all while preventing spillages during the transportation of material from and to the port and protecting the quay from heavy waves.



New Transfer Tower: The condition of the exiting transfer tower will be improved by providing an adequate connection between the clinker storage silos and the exiting/new cement mills, supporting the existing Petcoke feeding belt conveyor and providing appropriate support for the new slag feeding the belt conveyor.